We have a couple of old rather large windows on walls in our home. The first one is the huge one we put behind our bed and the other one is hanging as you head up our stairs. This one is about five feet by four and a half.
I originally made the fringy fair type banner and hung it along the window but something was still missing. I had been wanting to make one of these paper wreaths and figured I could get one done in no time.
Whoa ladies - this took longer than banners and pom poms! But I sure am glad aside from the aching back and burned fingers that I completed it. I am so happy with it hanging on the chippy old window and just below fringy banner.
I followed
Living with Lindsay's tutorial
and
thank
her
for
the
inspiration!
Featured at: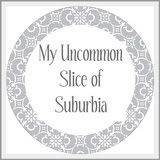 I am linking to the parties on my sidebar.